Aujourd'hui, des extraits et quelques mots à propos de trois disques d'improv' parus en ce premier trimestre 2007.
Cor Fuhler - Stengam (Potlatch)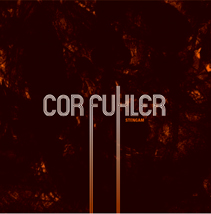 Ne pas se fier aux apparences d'une pochette:
Cor Fuhler
n'a en effet pas signé chez Southern Lord, mais c'est bien sur le label parisien Potlatch qu'on le retrouve pour une série d'expérimentations
inside piano
(cf.
The Hands of Caravaggio
).


Chocs sourds sur les cordes, vibrations entraînées par la présence d'ebows et d'aimants (car figurez vous que
Stengam
, une fois retourné, nous donne Magnets, CQFD!). Une vision riche et singulière de l'instrument.


Deux extraits
ici
.
Günter Müller - Reframed (Cut)

Là aussi, ça se passe en solo, et là aussi l'instrument est plutôt méconnaissable: il s'agit de notre amie la cymbale dont
Günter Müller
extrait la nature oscillatoire: études sur ses entrées en résonance, ses pulsations et ses ondulations, dans un univers plutôt austère. Des extraits sont disponibles sur le site du label.
Axel Dörner & Lucio Capece - S/T (L'Innomable)

Et on termine avec un duo composé d'une figure incontournable (le trompettiste
Axel Dörner
) et d'un musicien sans doute plus méconnu,
Lucio Capece
, saxophoniste et clarinettiste d'origine argentine et expatrié à Berlin. D'excellents moments dans cet album où les souffles s'entremêlent entre les phases silencieuses, à découvrir avec deux extraits
ici
.