Pour débuter le programme du jour, attaquons par un coup de projecteur sur
Sir Richard Bishop
... un éclairage sous deux jours bien distincts.
Paru dans la série
Latitudes
en février dernier,
Fingering the Devil
suit la lignée de
Salvador Kali
et
Improvika
: du fingerpicking aux influences multiples (blues, jazz manouche, couleurs ibériques ou nord africaines...) qu'il développe dans un style affûté, le temps de neuf titres ouverts à l'improvisation.
En guise de mise en bouche, une vidéo de
Abydos
, le titre d'ouverture de
Fingering the Devil
:
Plus de détails sur cet album dans cette

chronique

.

Une série d'extraits à écouter

ici

.

D'autres vidéos de

Richard Bishop

(et des

Sun City Girls

) sont disponibles sur YouTube.
Un peu plus récemment, le label chicagoan
Locust
a accueilli une toute autre initiative signée
Richard Bishop
, avec
Elektronika Demonika
, qui traînait dans les cartons depuis 1998. Pas la moindre note de guitare ici, mais quarante minutes de bidouilles électroniques et autres triturages radios...
L'ensemble est plutôt réussi, avec même quelques très bonnes phases, dans un esprit qui flirte avec l'ambient et les paysages hantés. Une sélection d'extraits, par
ici
.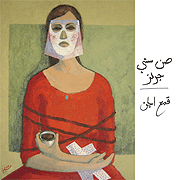 Un mot enfin sur les récentes sorties des
Sun City Girls
... Passons assez rapidement sur
Static from the Outside Set
(une session radio plutôt destinée aux hardcore fans) et sur un
Live Room
(paru dans la série Modern Containment de
Threelobed
) qui comblera surtout les aficionados des tirades de l'
Uncle Jim
, pour se diriger vers
Djinn Funnel
(sur Nashazphone), un florilège de titres enregistrés sur la période 1999-2001 qui renoue quelque peu avec l'esprit aventurier et épique du légendaire
330,003 Cross Dressers from Beyond the Rig Veda
. Un titre en écoute: Nites of Malta.